10 Most Promising Enterprise Security Solution Providers - 2020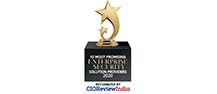 With the rapid increase in cybersecurity threats that invade critical business infrastructure, more and more enterprises recognize the importance of security solutions. An enterprise security solution protects the entire business from all kinds of threats, be it hardware or software. A data breach that compromises sensitive customer information is a sure-shot way to lose loyal customers. Therefore, in today's world, safeguarding private customer information against hackers and cybercriminals or any other malicious attacks becomes paramount for any business undertaking's success.
Amidst the Covid-19 Pandemic crisis, the digital way of doing business has become the new Business Continuity Plan (BCP) for most organizations. In such a scenario, protecting one's critical business infrastructure (web pages, platforms) becomes the need of the hour as well.
The global security solutions market stood at USD 252.77 Billion back in 2018, and it was projected to reach USD 526.65 Billion by 2026 at a CAGR rate of 9.9 percent between 2019-2026. The need to follow regulatory and data protection laws, risks in managing on-premises security solutions, and an increase in the demand for cloud-based security solutions are the driving force behind the tremendous growth of security as a solution sector.
The Indian enterprise security market is expected to grow from USD 453 Million back in 2018 to USD 1.17 Billion by 2024, exhibiting a robust CAGR rate of 18 percent. Rising cases of cybercrimes and the rapid adoption of cloud computing services such as Cloud-as-a-Infrastructure are some of the factors responsible for the growth of the market in India. On top of that, the rising number of small & mediumsized enterprises in cybersecurity are some of the other factors responsible for India's security solutions market growth. Given the latest trends, cybersecurity solution providers have a vast opportunity lying ahead in India.
After studying the current market trends in India's enterprise security solution sector, CIOReviewIndia's distinguished panel consisting of CEOs, CIOs, VCs, analysts, and the editorial team present to the readers a list of "10 Most Promising Enterprise Security Solution Providers-2020". The enlisted companies are best placed with their cutting-edge security solutions to help businesses fulfill their cybersecurity needs.
We present to you CIOTechOutlook 10 Most Promising Enterprise Security Solution Providers - 2020.
Top Enterprise Security Solution Providers
| Company Name | Company Description |
| --- | --- |
| Micro Focus India | World's seventh-largest pure-play software company that offers digital transformation solutions including Enterprise DevOps, Hybrid IT Management, Security, Risk & Governance and Predictive... |
| | |
| --- | --- |
| Bulwark Technologies | Provides Information Security and Communications products across sectors including Banking, Finance, Government, Manufacturing, Hospitality, Medical, and Education. |
| Chavans | Security offerings include End-point security, Data center Security, Data Loss prevention, Advanced Threat Protection, and Web Application Firewall. |
| Infopercept Consulting | Avails various solutions such as SOC (Security Optimization Centre), COC (Compliance Optimization Centre), and AOC (Automation Onboarding Centre). |
| Netskope | Develops solutions that enable enterprises to secure both sanctioned & unsanctioned cloud services, cloud data security, and prevent online threats. |
| Quoinx Technologies | Working on design & implementation of hyperscale security architectures which enables customers to scale horizontally and vertically. |
| Rapid7 | A provider of Information Security, Vulnerability Management, Compromised User Detection, Mobile Risk Management, Enterprise Control Monitoring, and Intrusion Detection. |
| Seclore | A specialist in Rights Management technology, while also having expanded its solution suite with an open, agile Data-Centric Security Platform. |
| SonicWall | Offers real-time breach detection and prevention solutions backed by Capture Threat Network. |
| Virsec Systems | Offers solutions that precisely pinpoints threats at the source, within business critical applications via platform that maps correct application behavior, and instantly detects & blocks... |