20 Most Promising Enterprise Security Solution Providers – 2018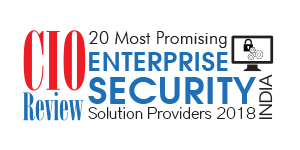 Countless businesses and organizations are still adopting big data environments to store and manage the enormous amount of data. Transition of the enterprise infrastructure to the cloud has also been underway for quite some time now. IoT devices are simultaneously proliferating into the enterprise ecosystem. While businesses are aggressively marching to harness the power of these advanced technologies, their rapid movement has also opened the door to a world of security threats. Unfortunately, a large number of businesses have been observed to be paying no heed to them, despite cyber attacks and ransomware making the headlines every now and then. In a bid to stay ahead of the competition and meet the ever-growing demands of customers, securing the volatile business environment seems to have taken the back seat.
Businesses have to understand that it is now or never. Security threats are only growing in their sophistication and once under attack, there might be no recovery. Consequently, these entities have to take adequate measures to shield themselves. A proactive approach that prevents the threats from gaining a foothold and identifies and mitigates all vulnerabilities in real time is pivotal to the process. Protecting personally identifiable information, intellectual property and creating a safe environment for transaction of data are other areas that require immediate attention. Aiding businesses and all organisations in this process is CIOReview India's list of "20 Most Promising Enterprise Security Solution Providers 2018". A distinguished panel of CEOs, CIOs, industry analysts and the CIOReview India Editorial Team have closely scrutinized and nominated the vendors who have been revolutionizing the enterprise security space through their unmatched domain expertise, closing in the various gaps that exist in the market and fostering a secure business environment.
We present to you CIOTechOutlook 20 Most Promising Enterprise Security Solution Providers – 2018.
Top Enterprise Security Solution Providers –
| | |
| --- | --- |
| Actiance | Provider of Communication security solution |
| AppSecure | Provider of Block chain security, CMS security and penetrating testing |
| AVG India | Provider of Internet Security software |
| Bulwark Technologies | Provider of IT security solutions |
| CyberArk | Provider of Privileged Account Security solution |
| Entrust Datacard | Provider of technologies to provide trusted identities and secure transactions |
| FireCompass | Provider of CyberSecurity solutions with AI-assistance |
| FireEye | Provider of enterprise cybersecurity products and services |
| FireMon | Provider of security management solution with firewall behavior testing, workflow integration, and traffic flow analysis |
| F- Secure | Provider of Cyber security solutions |
| JNR Management Resources | Provider of IT security solutions |
| McAfee | Provider of integrated information security solutions powered by McAfee Global Threat Intelligence |
| Parablu | Provider of data management solutions |
| Promisec | Provider of Endpoint Security Management software |
| Radware | Provider of Load balancing and Cybersecurity services for data centers |
| REVE Antivirus | Provider of IT security for home users, SMEs & enterprises. |
| Seclore Technology | Provider of comprehensive rights management solutions |
| SecurView | Provider of Cybersecurity solutions which focus on datacenter, mobility, network identity policy, and network segmentation domain. |
| SonicWall | Provider of Cyber Security solutions |
| Trustwave Holdings | Provider of threat, vulnerability and compliance management services and technologies |